Pray For Us
We continue to submit the paperwork to be able to stay in Brazil for a longer period of time. The Missionary Team, with the invaluable help of Deisiane de Leão Machado da Costa, one of the sisters of the Community, has been able to submit again, an application to be able to stay in the country to continue with their mission. We ask for your prayers for all this process and for peace and protection for the brothers and sisters in mission.
New Outreaches
In the middle of March we started the two new outreaches of the Terra de Santa Cruz Community. For the time being we will be meeting once a month at the Casa dos Missionários. There is much enthusiasm among the single brothers and sisters who have taken on the Baluarte (Bulwark) Group for professional singles and also among the married people who are in charge of M2, the Married Couples Mission. Let us pray that the Lord will bring those brothers and sisters who in the future will join the community call.
The Ecumenical Call in Brazil
Ecumenism was the theme of our last community gathering. Terra de Santa Cruz is already taking steps towards living an effective ecumenism and has begun with the participation of brothers and sisters from different traditions in its missionary expressions.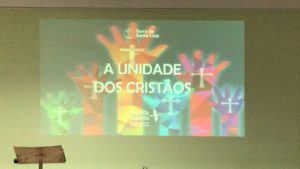 Ongoing Community Initiations Courses
Silene Gómez, one of the Missionaries of the Baluarte Project, gives a talk of the Foundations 1 Course for the members of the community. Little by little we have been overcoming the language barrier, with God's grace.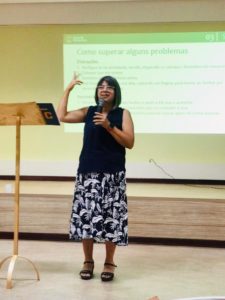 To Him be the honor forever.