Matthew 2:2 "We saw His star in the East."
Raise us up and draw us to your perfect light.
Reading:
Reflection:
In this fragile and uncertain world, we look for a light, a ray of hope from afar. In the midst of evil, we long for goodness. We look for the good within ourselves, but so often we are over­whelmed by our weakness that hope fails us. Our confidence rests in the God we worship. God, in his wisdom, enabled us to hope for divine intervention; but we had not anticipated that God's inter­vention would be a person, and that the Lord himself would be the light in our midst. This exceeded all our expectations. God's gift to us is a "spirit of power, and love." Not by relying on our own strength and ability are we drawn forward on the way to this perfect light, but rather by God's Holy Spirit.
In the midst of humanity's darkness, the star from the East shone. In it we see a light that penetrates the depths of the darkness that separates us from one another. The star's light was not only an illumination at a particular historical moment, but it continues to shine and change the face of history. Throughout the ages, and ever since the star first appeared, the world has come to know through the lives of Christ's followers the hope that is inspired by the Holy Spirit. These give witness to God's work in history, and to the abiding presence of the Holy Spirit. Despite the changing circumstances of history, the Risen One continues to shine, mov­ing within the flow of history like a beacon guiding all into this perfect light and overcoming the darkness which separates us from one another.
Our desire in the Sword of the Spirit to overcome the darkness that separates us compels us to pray and work for Christian unity.
Prayer:
Heavenly Father, illumine our path by the light of Christ who moves before us and leads us. Enlighten us and dwell within us. Creator of light, we thank you for the gift of that unfading Star, Jesus Christ, our Lord and Savior. May he be a beacon for our pilgrimage, heal our divisions, and draw us closer to the Light of Christ that we may find our unity in him. Amen.
Christian Witness: Growing in Unity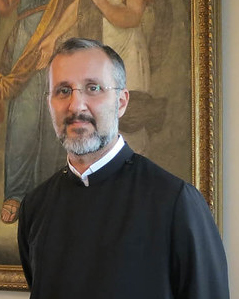 Archpriest Drtad Uzunyan has been serving for more than 30 years under the Armenian Orthodox Patriarchate of Türkiye.
The Armenian Church was founded in 301 by Saint Gregory the Illuminator and Saint King Drtad III. In this respect, it went down in history as the first nation to embrace Christianity and has a 1700-year history. The Armenian Patriar­chate of Türkiye, where I serve, was established in 1461. Patriarch Sahak II is the 85th Patriarch of the Armenians of Türkiye. 
In 1989, I decided to follow Lord Jesus Christ by starting to read the Bible that a friend had given me. To better understand God's Word, I participated in a youth Bible study group led by Bishop Mesrob, who would later become the 84th Armenian Patriarch of Türkiye. I met my wife Tanya in that same Bible study group, and we were married in 1995. In that year I was also consecrated as a married Priest.
The Armenian Orthodox community in Türkiye is the biggest Christian population in Türkiye, and it has always taken a leading role among the Christian churches, especially in fostering ecumenical collaboration. By the efforts and close cooperation of the late Patriarch Mesrob II and the Ecumenical Patriarch Bartholomew, the ecumenical life in Türkiye was raised to a higher level. In 2003, by the proposal of the two patriarchs and by the participation of the traditional church bishops and mainstream Protestant church leaders in Türkiye, the Joint Commission of Churches in Türkiye was established. The work of this commission opened a new ecumenical path for the local churches, and a very significant contribution of the Commission was the publication of a book on common faith principles Christianity: Fundamental Teachings. For the first time in history, Orthodox, Oriental Ortho­dox, Catholic and Protestant leaders signed a document which shows the common faith of all Christianity (see Garo Saraf's con­tribution for more about this).
Another commission yearly organizes the Week of Prayer for Christian Unity, which has been going on for 35 years. This has created an environment in which the various churches can inter­act with one another and serve together. Both commissions, of which I am the vice president, continue their work and plan to create further ecumenical initiatives.
The Istanbul Interparish Refugees Program, which has been serv­ing refugees for years, is yet another fruit of the ecumenical envi­ronment that has been created.
Recently, consultations between Traditional Churches and the Union of Protestant Churches in Türkiye have started, and efforts are being made to create a fraternal space for further dialogue. This aims to promote Christian dialogue between Free Churches and Traditional Churches in Türkiye at an official level and to establish an atmosphere of mutual respect, love, and cooperation. I recommend the ecumenical environment in Türkiye as a good model of cooperative ecumenism in the world. We are trying to develop ways to resolve existing problems, conflicts and deepen mutual understanding and connectedness. 
The city where two very significant separations of churches took place (in 451 at the Council of Chalcedon and in the Great Schism of 1054) – this city is currently becoming a good model of grow­ing Christian unity among the small remnant of Christian pres­ence, in the vast sea of a Muslim country.
Remember us in your prayers, remember our church leaders, that we may walk and serve in unity, pleasing our Lord's heart, as he prayed: "Holy Father, protect them by the power of your name, the name you gave me, so that they may be one as we are one" (John 17:11).May the Lord protect us by the power of his Name and make us one. Amen.
---
Return to the Week of Prayer for Christian Unity Home Page